HERE IS JUST A FEW OF THE MANY MONSTER/ MEGA/ MUD TRUCKS
THAT RED BARN CUSTOMS HAS BUILT PARTS FOR OVER THE YEARS
0
1
2
3
4
5
6
7
8
9
10
11
12
13
14
15
16
17
18
19
20
21
22
23
24
25
26
27
28
29
30
31
32
33
34
35
36
37
38
39
40
41
42
43
44
45
46
47
48
49
50
51
52
53
54
55
56
57
58
59
60
61
62
63
64
65
66
67
68
69
70
71
72
73
74
75
76
77
78
79
80
81
82
83
84
"LUKE MUD WALKER'S"
"RED BARN CUSTOMS"
BUILDING MEGA TRUCK PARTS SINCE 2006
.
WE SPECIALIZE IN BUILDING WHEELS FOR THE FOLLOWING TYPES OF VEHICLES
MEGA TRUCKS, MONSTER TRUCKS, RIDE TRUCKS,
MUD TRUCKS, DODGE POWER WAGONS & M37'S
ANY OFF ROAD TRUCKS,
ROCK BOUNCERS, RACE TRUCKS, FIRE TRUCKS, COAL MINING EQUIPMENT, LOGGING MACHINES
***WE EVEN BUILD WHEELS FOR MOVIE'S SUCH AS
"MONSTER TRUCK" FROM PARAMOUNT PICTURES**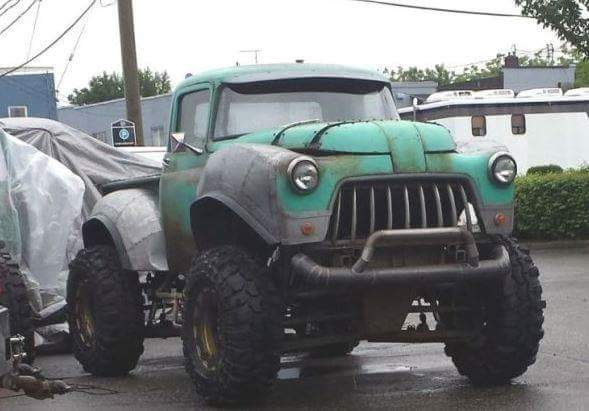 *
**810-650-8641**
CHECK OUT OUR NEW ONLINE STORE.
USE THE TABS IN THE UPPER LEFT HAND CORNER
FOR ALL OF YOUR MEGA TRUCK NEEDS.
NEW PAGES ADDED DAILY!
WE ARE YOUR 1ST CALL FOR
2.5 TON & 5 TON ROCKWELL
AXLES & PARTS & SERVICE
.
RBC IS NOW OFFERING ALL
OF OUR PRODUCTS
AS NEW "DIY KITS"
RBC PARTS ARE ALL FOR "OFF ROAD USE ONLY"
WE CHARGE A 30% RESTOCKING FEE ON ALL RETURNS & CUSTOMERS RESPONSIBLE FOR PAYING RETURN SHIPPING
..
PLEASE ALLOW 1 TO 2 WEEKS FOR DIY KITS
.
PLEASE ALLOW AVERAGE OF 2 TO 4 WEEKS FOR RBC WELD
BUILD TIME & SHIPPING FOR MOST OF OUR PARTS
THAT ARE BUILT CUSTOM PER ORDER
PLEASE CALL US FOR LTL FREIGHT & UPS SHIPPING, TO HAWAII, ALASKA,
PLEASE CALL 810-650-8641 FOR QUOTES,
WE ARE NOW SHIPPING PARTS TO THE USA & CANADA
.
**CANADIAN CUSTOMERS ARE RESPONSIBLE FOR
ALL DUTIES, TAXES, AND WAITING TIME PERIODS ACCORDING TO ALL OF**
"BORDER/CUSTOMS RULES & REGULATIONS",
RBC ADDS A 3% CONVIENCE FEE FOR CANADIAN CREDIT CARDS***